If you're on Medicare, you're getting a new Medicare ID Card.  
In 2018 all Medicare ID cards will be changing to comply with a 2015 regulation named The Medicare Access and CHIP Reauthorization Act (MACRA).  This law requires that Social Security numbers be removed from Medicare ID cards to better protect patients from identity theft.
Simply, the new Medicare Card will no longer use your Social Security number.  
Medicare Beneficiary Identifier (MBI)
A new number, named the Medicare Beneficiary Identifier, or MBI for short, will be assigned to all Medicare beneficiaries.  This new number will be a randomly generated, 11 characters in length and made up of only numbers and uppercase letters.  
Protecting your information
The reason for the new Medicare ID cards is to better protect your private health and financial information.  Social Security numbers have been the 'go to' identifier for virtually all personal transactions, so if it was stolen, your whole identity was open to compromise.  These new numbers should help.
What will the new cards look like?
Shown below is an image of the new card.  It looks very similar to the old card.  The ID number is in a different spot, and also now uses the new format.  Your name and coverage start dates will be the same as your old card.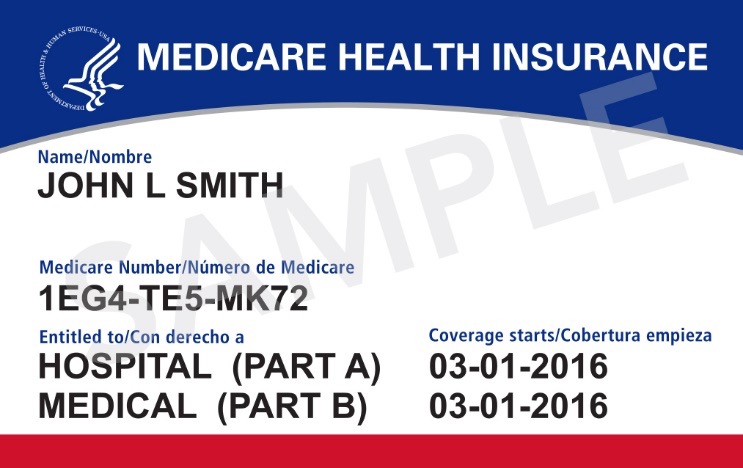 When will the new numbers be released?
Anybody enrolling in Medicare for the first time in April, 2018 and later will get the new 11 character Medicare ID.  These new enrollees will will never have their SS number used as their Medicare ID.
For existing Medicare enrollees, the new IDs are being rolled out nationwide starting in May, 2018.  The rollout will be by geographic area with most Medicare beneficiaries getting their new ID cards after June, 2018.
New York Medicare Enrollees
For Medicare enrollees in New York and the Hudson Valley, your new ID card is expected to arrive after June, 2018.  No more specific date has been given at this time.
When your new card arrives, be sure to destroy your old card.  No further work on your part needs to be done.
It's expected that these new cards will cause significant confusion and concern.  Please feel free to call us for questions on your new Medicare ID card.